Jungheinrich® Stacker Product Update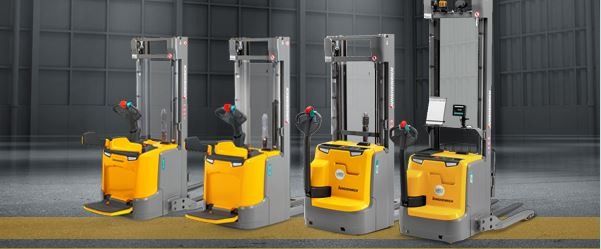 Jungheinrich has expanded their line of Stackers to provide greater operational flexibility with new capacity offerings!
The newly added model range boasts competitive advantages in terms of efficiency, ergonomics, productivity + reliability that have defined the Jungheinrich product offering within the North American market.
The newly available products include fork-over + straddle stackers for both pedestrian + ride-on operation | ERC.
• Previously offered in 3,000 lb. capacity | ERC 214
+ 3,500 lb. capacity | ERC 216
New Fork-over models:
• 2,600 lb. capacity | ERC 212
• 4,400 lb. capacity | ERC 220
New Straddle models:
• 2,600 lb. capacity | ERC 212b
• 3,000 lb. capacity | ERC 214b
• 3,500 lb. capacity | ERC 216b
• 4,400 lb. capacity | ERC 220b
Exclusively for Pedestrian Operation | EJC New Fork-over models:
• 2,600 lb. capacity | EJC 212
New Straddle models:
• 2,600 lb. capacity | EJC 212b
• 3,000 lb. capacity | EJC 214b
• 3,500 lb. capacity | EJC 216b
• 4,400 lb. capacity | EJC 220b
For More Information, Call us today:
800.444.4808
https://www.mitlift.com/wp-content/uploads/2020/02/stackers.jpg
249
601
Alechia Brown
https://www.mitlift.com/wp-content/uploads/2019/12/mitLogoLong.png
Alechia Brown
2020-02-17 11:17:58
2022-07-12 16:54:48
Jungheinrich® Stacker Product Update