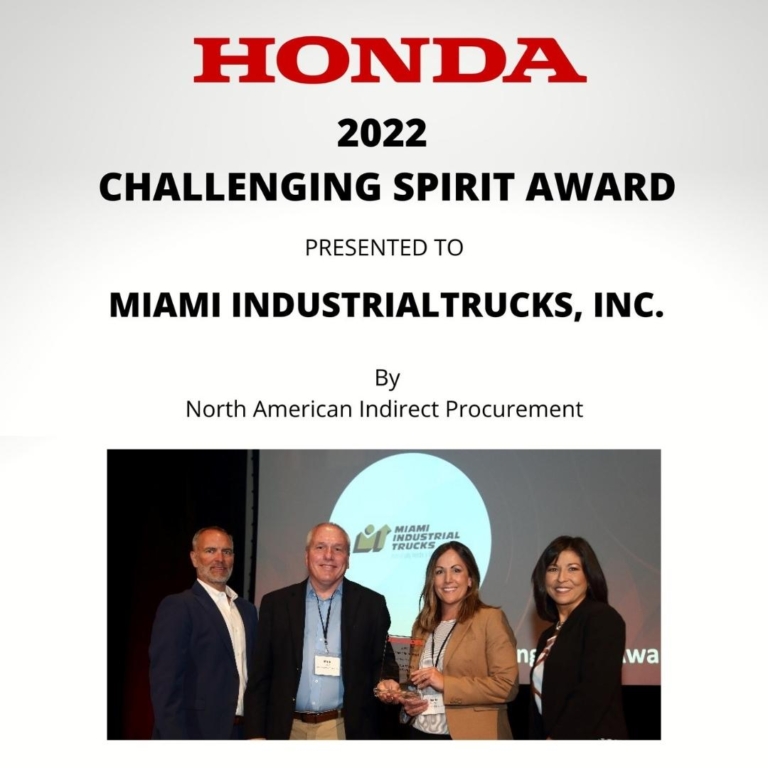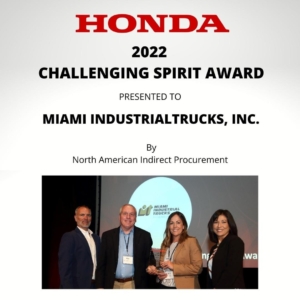 On June 8, 2022, Honda North America Indirect Procurement (NAIP) held their annual supplier conference. The NAIP Supplier Conference included several Honda Executives that discussed key topics including 2050 Carbon Neutral focus on electric car development, suppliers, and manufacturing of the vehicles. Key dates for vehicles to be powered by Lithium-Ion/Hydrogen as follows: 2030 40%, 2035 80% and 2040 100%. All support functions by suppliers will focus on driving processes to reach these goals including HVAC, Process Equipment, Material Handling Equipment and Manufacturing Equipment. Circular economy discussion related to utilizing products and components, as long as possible, by repurposing, recycling, and reusing them.
As part of the NAIP Supplier Conference, Honda recognized those suppliers that provided value-added services that helped Honda improve their operations.
With over 8,500 indirect suppliers, Honda awarded Miami Industrial Trucks with the 2022 Challenging Spirit Award for our value-added services in providing motive power solutions and beyond world-class services. What an honor to MIT for being recognized by Honda!
Check out the press release from HONDA –Honda Honors Indirect Procurement Suppliers Supporting its U.S. Business Operations (hondanews.com)